MIN. SHELF LIFE
@73°F (YR)
This product meet requirements of California South Coast Air Quality Management District (SCAQMD) Rule 1168. *Refrigeration is recommended to increase shelf life.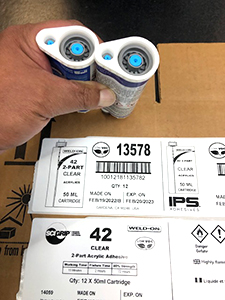 Packaging Update March 2022
Our packaging vendor has recently made improvements to the bottom plug in our 50ml cartridge for Weld-On 42. While the old plug was all gray, you'll notice the new plug has blue accents. The new plug design will not affect the product, shelf life, or performance. Also, it will still work exactly the same with your current applicator gun.
Weld-On® 42 is a clear, two-component reactive acrylic adhesive that polymerizes at room temperature.  Joints are hard enough for handling in about 4 hours and machining after 24 hours.
SUBSTRATE RECOMMENDATIONS
Highly suitable on acrylic, including extruded cell cast and continuous cast, molded parts and some cross-linked sheet.
Also good for bonding acrylic to polyester, cellulose acetate butyrate (trim cap), polycarbonate and other materials.
Good clarity retention is achieved by the reaction of the base resin with the catalyst. The adhesive is mixed as it passes though the mixer tip. The mixed product polymerizes at 70ºF (21ºC).
A versatile adhesive having many applications in for the manufacture and repair of:
Aquariums
Museum quality display cases
Signs and other plastic fabrication
| | | | |
| --- | --- | --- | --- |
| 50ml cartridge | 12 | 3 | 13578 |
| 50ml Mixing Tip | 12 | 1 | 13586 |
| 50ml Manual Gun | 1 | 1 | 13584 |
| 230ml cartridge | 12 | 11 | 10987 |
| 230ml Mixing Tip | 12 | <1 | 13147 |
| 230ml Manual Gun | 1 | 12 | 11778 |
Customers were also interested in or purchased: